Our Mission
To be a trusted facilitator of the health information and technology transformation required to achieve a person-centered health data economy.
MHDC is dedicated to active and effective collaboration among the healthcare community in their use of data, analysis, and information technology to achieve sustainable improvements in equity, engagement, quality, cost, and effectiveness. Our services address the myriad innovations in data science and analytics, data standardization and exchange, and the governance of a health data economy that puts the individual at its center.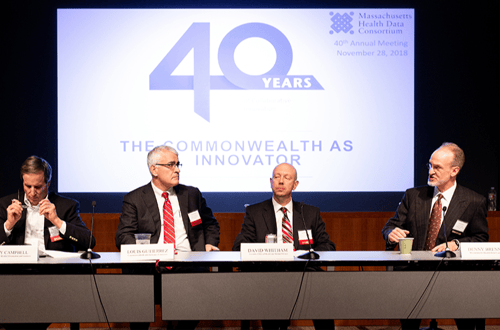 Our History
Since its incorporation in 1978, MHDC has focused its services on data quality, data standardization, interoperability and data exchange, analytics, and modernizing technology and IT processes among members of the New England health community. We convene interested parties for education, discussion of emerging topics in healthcare, collaborative specification of standardized technology projects, and focused implementations of infrastructure. These efforts enable health organizations to meet the needs of every individual, reduce the excessive burdens the industry imposes on all who interact with it, and improve health value.
Our Vision
A patient-centered health data economy that engages individuals to manage their health as they see fit.
The Dolores L. Mitchell Investing in Information Award
Since 1996, MHDC's Investing in Information Awards have honored organizations and individuals who have invested capital, knowledge and leadership to use information to innovate health care delivery, technology, financing and policy.
Previously known as the "INVESTING IN INFORMATION AWARD," this award was renamed in 2013 for long time Consortium Supporter and Board Member, Dolores L. Mitchell, former Executive Director of the Group Insurance Commission for the Commonwealth of Massachusetts.
Recent Recipients | 2021: Lee Green, Chief Architect, Enterprise Technology, Blue Cross Blue Shield of MA; Alexandra Mugge, Director and Deputy Chief Health Informatics Officer, CMS
2021: Lee Green, Chief Architect, Enterprise Technology, BCBSMA; Alexandra Mugge, Director and Deputy Chief Health Informatics Officer, CMS

2019 & 2020: No award due to COVID-19 and the Pandemic

2018: Ed Park, Co-Founder and Chief Executive Officer, Devoted Health

2017: David Szabo, JD, Locke Lord, MHDC Chairman Emeritus

2016: David Reis, PhD, David Whitham

2015: Ellen Hafer; David Querusio

2014: Justine Carr, MD; William Fandrich; Daniel Nigrin, MD

2013: Dana Gelb Safran, ScD; Barbara Spivak, MD

2012: Len Fishman; Joe Kvedar, MD; Richard Lopez, MD

2011: Andrew Dreyfus; Gary Gottlieb, MD; Ralph de la Torre, MD

2010: Marylou Buyse, MD; James Conway; Samuel O. Thier, MD

2009: Lawrence Garber, MD; Eugenia Marcus, MD, FAAP; Todd Rothenhaus, MD, FACEP; Rich Shoup, PhD

2008: Mitchell L. Adams; Meg Aranow; Louis I. Freedman; David S. Rosenthal, MD

2007: Leon Goldman, MD; David Szabo, JD; The Massachusetts e-Health Collaborative

2006: Lawrence K. Gottlieb, MD; Larry Nathanson, MD; James Feldman, MD; Joseph Bergen, DO

2005: Carl Ascenzo; T. Louis Gutierrez; Community Catalyst

2004: Kenneth Mandl, MD; Thomas Sullivan, MD; Dolores L. Mitchell

2003: John D. Halamka, MD, MS; John P. Glaser, PhD; Stephen Burns

2002: Mary Beckman; Paul F. Levy; Dean Joseph B. Martin, MD, PhD; William D. O'Leary

2001: Senator Richard T. Moore

2000: Lucian L. Leape, MD; Albert G. Mulley, Jr., MD

1999: Bell Atlantic; Massachusetts Health Quality Partners

1998: MA Division of Health Care Finance & Policy; Massachusetts Department of Public Health; Analog Devices

1997: The Advisory Committee on Public Disclosure of Physician Information; MA Board of Registration in Medicine; Massachusetts Medical Society; MA Office of Consumer Affairs and Business Regulation

1996: Digital Equipment Corporation; Group Insurance Commission; Massachusetts Health Purchaser Group; Millipore Corporation; New England HEDIS Coalition
Close Modal